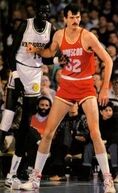 Charles Goodrich 'Chuck' Nevitt (born June 13, 1959 in Cortez, Colorado) is an American former professional Basketball player, known primarily for his great height. At 7-foot, 5-inches, he played the Center (basketball) position throughout his nine-year career (1983, 1985-1990, 1992, 1993) in the NBA, and remains one of the tallest players ever in NBA history. During his career, Nevitt played with the Houston Rockets, Los Angeles Lakers, Detroit Pistons, Chicago Bulls and San Antonio Spurs. He usually sported jersey #52.
Nevitt, raised in Cobb County, Georgia (U.S. state), attended Sprayberry High School and played College basketball at North Carolina State University. He was selected in the third round of the 1982 NBA Draft by the Houston Rockets, subsequently playing 15 games with the Los Angeles Lakers in 1/2 seasons.
While with the Detroit Pistons through 1986-88, Nevitt became a fan favorite because his gangly presence on the court signified that a Piston victory was well in hand. These last minutes of a Detroit blow-out were called Nevitt Time by fans and announcers. Sports Illustrated once nicknamed him "The Human Victory Cigar".
Although playing for nine years, Nevitt only played for 826 minutes for his entire career which lasted 155 games, which equates to under 18 complete NBA games (his most being 43 in 1988-89). After a return to the Rockets, he also appeared for the Michael Jordan-led Bulls (during a 1991-92 10-day contract), and had 1 game with the Spurs - the 1993 season opener, on November 5, in which he made 3-of-6 free-throws in less than a minute against the Golden State Warriors, being released shortly after.
Nevitt played in just 16 playoff games, 7 with the Lakers and Pistons and 2 with the Rockets. As the ultimate example of being in the right place at the right time, he was a member of the 1985 Lakers' championship roster.
Upon retiring, Nevitt settled in Raleigh, North Carolina.
External links
Edit