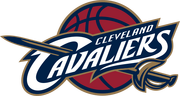 The following is a list of players, both past and current, who appeared at least in one game for the Cleveland Cavaliers NBA franchise.
Derek Anderson (basketball)
Butch Beard
Benoit Benjamin
Melvin Bennett
Corie Blount
Carlos Boozer
A.J. Bramlett
Brad Branson
Austin Carr
Derrick Chievous
Jimmy Cleamons
Barry Clemens
Bimbo Coles
Brad Daugherty (basketball)
Charlie Davis
DeSagana Diop
Chris Dudley
Danny Ferry
Bruce Flowers
Rowland Garrett
Chris Gatling
Daniel Gibson
Drew Gooden
Steve Hayes
Alan Henderson
Anthony Johnson
Darryl Johnson
David Magley
Dan Majerle
Donny Marshall
Donyell Marshall
Ben McDonald
Chris Mihm
Darius Miles
Andre Miller
Chris Mills
Carl Nicks
Demetris Nichols
Aleksandar Pavlovic
Bobby Phills
Luther Rackley
Jackie Ridgle
Cliff Robinson
Bill Robinzine
Dave Robisch
Cedric Simmons
Brian Skinner
Bingo Smith
Dick Snyder
Dave Sorenson
Bryant Stith
Bruno Sundov
Bob Sura
Dajuan Wagner
Ben Wallace
Cornell Warner
Bobby Washington
Clarence Weatherspoon
David Wesley
Delonte West
Bobby Wilkerson
Chuckie Williams
Bill Willoughby
Ad blocker interference detected!
Wikia is a free-to-use site that makes money from advertising. We have a modified experience for viewers using ad blockers

Wikia is not accessible if you've made further modifications. Remove the custom ad blocker rule(s) and the page will load as expected.