Clyde Austin Drexler (born June 22, 1962 in New Orleans, Louisiana) is a former National Basketball Association shooting guard. A ten-time All-Star and member of the Basketball Hall of Fame, the NBA named him one of basketball's fifty greatest players as of 1996. Drexler won an Olympic gold medal in 1992 and an NBA Championship in 1995 with the Houston Rockets. He is currently the color commentator for Rockets home games.
Basketball career
Edit
High school and college
Edit
Drexler graduated from Houston's Ross Sterling High School in 1980.
He was recruited by UH after "Phi Slama Jama" alumnus teammate Michael Young told an assistant to head coach Guy Lewis that Drexler was the best player he had faced in high school. Attended the University of Houston where, alongside Young, Hakeem Olajuwon and Larry Micheaux, they constituted the "Phi Slama Jama" basketball fraternity renowned for its acrobatic, "above the rim" style of play. Drexler helped lead the Cougars to consecutive Final Four appearances in 1982 and 1983, losing the 1983 NCAA Final to underdog North Carolina State.
NBA career
Edit
Drexler was selected in the 1st round, 14th overall pick in the 1983 NBA Draft by the Portland Trail Blazers. He was passed over in the 1983 NBA Draft by the Houston Rockets, who drafted Ralph Sampson and Rodney McCray, before Drexler was selected. Along with teammates Terry Porter, Jerome Kersey, Buck Williams, Kevin Duckworth, and Clifford Robinson, Drexler helped lead the team to the NBA Finals in 1990 (against the Detroit Pistons) and 1992 (versus the Chicago Bulls).
In 1992 he was selected to the U.S. Olympics basketball team, nicknamed "Dream Team (basketball)", which won the gold medal in 1992. In the 1991-92 season he finished second to Michael Jordan in MVP voting. He would meet Jordan's Chicago Bulls in the NBA Finals that same season only to fall short, as Jordan and the Bulls went on to win their second consecutive championship. In the six-game series against Chicago, Drexler averaged 24.8 points, 7.8 rebounds and 5.3 assists per game.
On February 14, 1995, with the Blazers out of serious contention for a championship, Portland honored Drexler's request to be traded to a contender and sent the Blazer great to the Houston Rockets in exchange for Otis Thorpe in mid-season, right before the trade deadline. Despite finishing the regular season with a record of 47-35, which placed the Rockets 6th out of 8 playoff teams in the Western Conference, Drexler and long-time friend Hakeem Olajuwon helped propel them to an improbable second consecutive championship in 1995, sweeping the Orlando Magic. In his second NBA Finals appearance, Drexler averaged 21.5 points, 9.5 rebounds and 6.8 assist per game.
During the 1995 NBA Playoffs, Drexler was the subject of a controversial ejection during a game between the Rockets and Phoenix Suns by referee Jake O'Donnell, which allegedly stemmed from a personal feud between the two at the time.. This would turn out to be the last NBA game O'Donnell would referee, as he was not assigned any further games in the playoffs that year, and eventually retired a few months later. In 1996, on ESPN's "NBA Today", O'Donnell commented, "I wouldn't give Clyde Drexler much leeway because of the way he reacted with me all the time. I thought at times he would give cheap shots to people, and I just would not allow it."
Playing style
Edit
Clyde "The Glide" Drexler, as he was nicknamed at Houston, was famed for his speed and athleticism on the court and his easygoing and quiet demeanor off the court. At the University of Houston, Drexler became well known for his exceptional abilities as a finisher, but generally was not considered a great shooter. During his pro career Drexler developed a much more well rounded game, even becoming an effective post player and more consistent outside shooter. His extraordinary leaping abilities allowed him to be an acrobatic dunker and Drexler participated in numerous NBA All-Star dunk contests during the late eighties.
Drexler was regarded as a versatile player, and he was consistently among the leaders at his position in points, rebounds, Assist (basketball), and steals. This versatility led him to nearly receive a quadruple double twice in his career (January 10, 1986, Portland at Milwaukee; 26 points, 9 rebounds, 11 assists, 10 steals; and November 1, 1996, Houston vs. Sacramento; 25 points, 10 rebounds, 9 assists, 10 steals). He also posted a considerable number of Block (basketball) for a player his size, ranking third for his career totals among guards.
He is one of only three players in NBA history to have posted career totals of at least 20,000 points, 6,000 rebounds and 6,000 assists (the two others being Oscar Robertson and John Havlicek). As of 2008, Drexler leads all guards with his career average of offensive rebounds with 2.4 per game.
College coaching career
Edit
Drexler stayed with the Rockets for three more seasons before retiring from the NBA after the 1997-98 season in order to become head men's basketball coach at his alma mater, the University of Houston.
Drexler coached the Cougars in 1998-1999 and 1999-2000. After compiling a 19-37 record in his two seasons, Drexler decided to resign to spend more time with his family.
Honors and tribute
Edit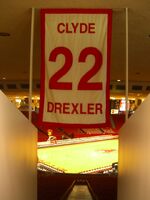 Drexler's #22 jersey has been retired by the Cougars (pictured), Rockets, and Trail Blazers. He was inducted as a player into the Naismith Memorial Basketball Hall of Fame on September 10, 2004, in his first year of eligibility.
In 2004 Drexler co-authored his biography, Clyde the Glide, with Portland Tribune sports writer Kerry Eggers, and University of Houston classmate and CBS Sports broadcaster Jim Nantz providing the "foreword".
Drexler set a Trail Blazer record in 1989 by dunking on an 11' 1" rim.
He chose to wear a Houston Rockets team jacket when announced as one of the 50 Greatest Players in NBA History, having been on the team just a year, rather than the jacket of the Portland Trail Blazers, with whom he'd played the preceding 11-1/2 seasons.
Drexler married his wife, Gaynell, on December 30, 1988. He has four children, Erica, Austin, Elise, and Adam, the last three with Gaynell. The Drexlers have a home in the River Oaks-Memorial neighborhood of Houston and another one in the Dunthorpe neighborhood of Portland.
His brother James and his two sisters, Denise and Virginia, run the family Barbecue restaurants in Houston called Drexler's World Famous BBQ & Grill, which includes the "22 Bar". His mother, Eunice Scott, also works at the downtown restaurant that was started by his uncle in 1967. There are two locations, downtown Houston and Bush Intercontinental Airport. Drexler also started investing in real estate in his rookie NBA season, and although he is now mostly retired, he does do some managing of his Drexler Holdings LLC, based in downtown Houston.
Austin Lives In Bray Hall At RPI
TV appearances
Edit
Drexler made a guest appearance on Married with Children.
Drexler had a cameo appearance in an episode of Arliss.
Drexler was also a guest star in an episode of The Sentinel.
In 2006 he made a cameo appearance as himself on the family loving basketball movie Like Mike 2.
In 2006, Drexler participated in the first season of the Spike TV show Pros vs. Joes, which features three amateur contestants matching themselves against five professional athletes. Drexler was a member of the regular season Green Team and the season finale Orange Team.
On February 21, 2007, it was announced that Drexler would participate in the fourth season of the American version of Dancing with the Stars (US TV series) with partner Elena Grinenko. Drexler was the fourth celebrity to be voted off in round five on April 17, 2007.
External links
Edit