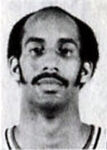 Granville Stephen Waiters (born January 8 1961 in Columbus, Ohio) is a retired American professional Basketball player.
At ft 6 in (2.11 m) and 225 lb (102 kg), Waiters played Ccenter for Ohio's men's basketball team and was drafted by the Portland Trail Blazers in the second round of the 1983 NBA Draft. The Blazers sold their draft rights to the Indiana Pacers, and Waiters spent his first two seasons in Indiana. He then played for the Houston Rockets and Chicago Bulls until leaving the NBA for Europe in 1988. Waiters averaged 2.2 points and 2.4 rebounds over the course of his NBA career.
From 1988 to 1990 Waiters played in the Spanish league as a member of FC Barcelona Basquet and CB Bilbao Berri. He is currently involved with several humanitarian efforts in his native Ohio.
External links
Edit
Ad blocker interference detected!
Wikia is a free-to-use site that makes money from advertising. We have a modified experience for viewers using ad blockers

Wikia is not accessible if you've made further modifications. Remove the custom ad blocker rule(s) and the page will load as expected.