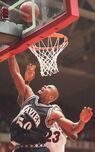 Torraye Braggs (born May 15 1976 in Fresno, California) is an American professional Basketball player, formerly of the NBA, currently playing with Orthodox in Jordan.
After a college career at Xavier University (Cincinnati), Braggs was drafted by the Utah Jazz in the second round of the 1998 NBA Draft, and had short stints in the NBA, with the Houston Rockets (November 2003 and March 2005) and the Washington Wizards (January-February 2004), averaging 2.1 points per game. In the United States, he also played in the CBA, the ABA and the NBDL.
Upon graduating from Xavier, Braggs played professionally in twelve different countries, from Spain to the Philippines, where he represented the Coca Cola Tigers in the 2002 PBA Commissioner's Cup and the Barangay Ginebra Kings for the transitional 2004 PBA Fiesta Conference. This team made it to the championship, as Braggs became the Philippines.
In 2006-2007, Braggs played in Latvian club ASK Rīga, becoming Latvia (LBL) champion in that season, averaging 13,4 points per game (13 ppg in domestic competition, 14,4 in Baltic Basketball League).
Playing career
Edit
1994-1998: Xavier University (NCAA)
1998: NBA draft, 2nd round Utah Jazz
1998: Caja Cantabria (Spain)
1999: Gran Canaria (Spain)
1999-2000: Gaiteros del Zulia (Venezuela)
2000-2001: Indiana Legends (ABA)
2001: Replaced Marvin Alexander at CB Manresa (Spain)
2001-2002: Aris BC (Greece)
2002: Toros de Aragua (Venezuela)
2002: Santurce Crabbers (basketball) (Puerto Rico)
2002-2003: PAOK BC (Greece)
2003: Hapoel Jerusalem BC (Israel)
2003: Replaced JaJa Richards at Maratonistas de Coamo (Puerto Rico)
2003: Houston Rockets (NBA)
2003: Yakima Sun Kings (CBA)
2004: Washington Wizards (NBA)
2004: Sioux Falls Skyforce (CBA)
2004: Leones de Ponce (Puerto Rico)
2004: Barangay Ginebra Kings (Philippines)
2004-2005: Spartak Saint Petersburg (Russia)
2005: Houston Rockets
2005-2006: Ulsan Mobis Phoebus (South Korea)
2005-2006: Tulsa 66ers (NBDL)
2006: Spartak Primorje (Russia)
2006-2007: Qingdao Double Star (China)
2006-2007: Maccabi Ironi Ramat Gan (Israel)
2006-2007: ASK Rīga (Latvia)
2007: Petrochimi Bandar Imam BC (Iran)
2008-: Orthodox (Jordan)
External links
Edit
Ad blocker interference detected!
Wikia is a free-to-use site that makes money from advertising. We have a modified experience for viewers using ad blockers

Wikia is not accessible if you've made further modifications. Remove the custom ad blocker rule(s) and the page will load as expected.